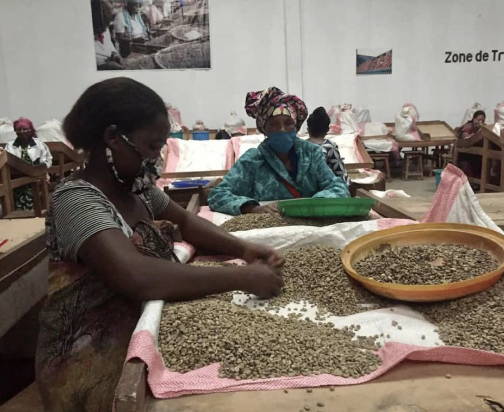 Fadhili
Swahili for "Kindness"
The farmers who produce Fadhili formed a cooperative in 2013, in order to fight against increased poverty and ensure the well-being of the population in the rural areas of South Kivu. The cooperative aims to provide technical assistance, mentorship and impart knowledge on future generations so coffee can continue to be a catalyst of job creation for the community over the long term.
A Farmer's Story
Heri Nyongolo is a teacher at the Murambi primary school and a coffee producer. Learning about coffee and launching his small business allowed him to diversify his income. Mr. Heri is grateful for what coffee has brought to his life. His children go to school and he no longer struggles to pay their tuition. This income enables him to invest into his children's future.
Cooperative: Coopérative Agricole de Production de Café de Kalungu au Kivu
Agricultural Cooperative for the Production of Coffee in Kalungu in Kivu
Coopérative Agricole de Production de Café de Kalungu au Kivu was founded in April 2013 but had many unfortunate false starts due to intermittent conflict in the South Kivu province.
This conflict was the result of different militias fighting each other and at times these militias were fighting against the Congolese army. The continuous violence prevented coffee growers from the affected communities from organizing themselves at scale and working together as their activities had to consistently be paused due to the violence.
Nevertheless, during periods of extended calm, founding members continued to work collectively with local NGOs and government agencies to use agriculture as a tool to fight against extreme poverty in South Kivu.
With support from the aforementioned organizations, members of Coopérative Agricole de Production de Café de Kalungu au Kivu (CAPCKI) were able to improve their processes and understanding of coffee and they were able to participate in Saveur du Kivu, a local coffee festival.
Through the positive feedback they received at the festival, the cooperative became known locally for the distinctive flavor notes of its coffees, which generated momentum and increased interest from other smallholder farmers. Participation in the Saveur du Kivu, was a catalyst for the cooperative's growth and emergence.